Seminary of the Good Shepherd
It has been a tremendous year for the Seminary of the Good Shepherd, and indeed the Catholic Church in Sydney at large, with the joyful ordination of 5 new priests on the Feast of the Transfiguration of Our Lord. 
St Mary's Cathedral was full to bursting during the three-hour service to welcome the five ordinands, including at least 120 priests from around the country. Rev Frs Benjamin Gandy and Adrian Simmons commenced their studies at the Seminary of the Good Shepherd in 2015 while Rev Frs Benjamin Saliba, Bijoy Joseph and Mark Anderson joined the following year. 
After a stressful few years contending with Covid-19, the young priests were finally able to make their final professions to the service of God and neighbour for the rest of their lives. At least 120 priests gathered at the Cathedral to welcome the five ordinands: friends from seminary years, mentors from pastoral placements, lecturers, and spiritual fathers.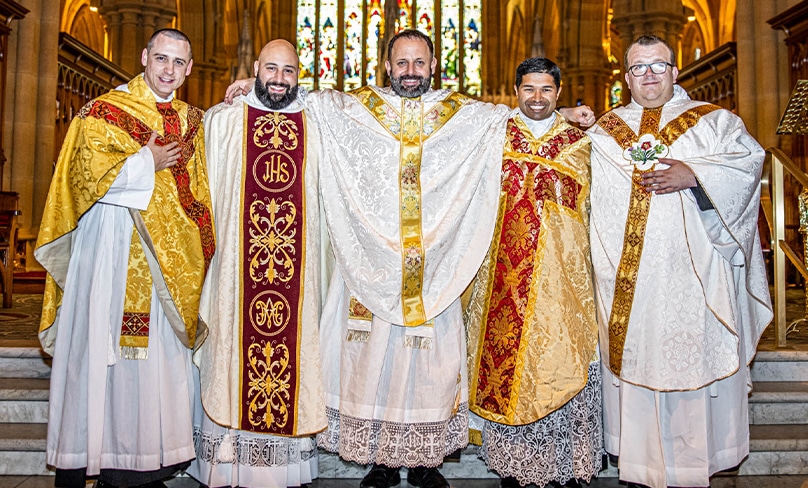 "Stay in love with God" Bishop Meagher encouraged the newly-ordained priests. "Keep praying – that's the only thing."
2022 also marked the Silver Jubilee of the opening of the Seminary of the Good Shepherd. The previous seminary rector, Auxiliary Bishop Danny Meagher was the principal celebrant of a Mass to mark the occasion. 
Since its opening in 1996, the Seminary has formed around 107 priests and currently boasts the highest number of seminarians of any diocesan seminary in Australia! 
Redemptoris Mater Seminary 
The Charitable Works Fund also supports the Redemptoris Mater Missionary Seminary, the centre of formation for the Neocatechumenal Way in Australia. This year, two new priests joined the ranks of the Neocatechumenal Way at a joyful service at St Mary's Cathedral. 
Rev Frs Anderson Gallego Rodas, from Colombia, and Rafael Silva Galicia, from Mexico, were ordained on the Feast of St Francis Xavier. Both new priests have continued serving where they were originally appointed as deacons: Our Lady of Fatima (Caringbah) and Our Lady of the Annunciation (Pagewood).