Meet Fr William Challenor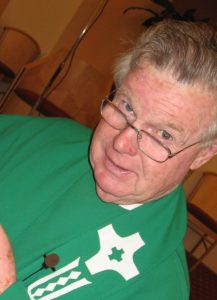 Meet Fr William Challenor
The willingness of Priests' to serve and give their life has often been the hallmark of their ministry, which was also the case with retired priest, Fr William Challenor.
Fr William was ordained to the priesthood in 1961. He started his priestly ministry at Dee Why where he was baptised by fire, so to speak, after entering the recently burned down parish, St Kevins, and worked tirelessly toward rebuilding it. Following this assignment, he went to the rapidly growing parish at Liverpool.
Ministry in Australia and Beyond
Before the commencement of the Second Vatican Council, an unfortunate plane crash in New Guinea killed their local priest, which left the presiding Bishop naturally grieved. The Sydney Archbishop at the time, Cardinal Gilroy, offered his support and asked Fr William whether he would be willing to serve in New Guinea, which he did for six years. 
Fr William worked to support the local priests, evangelising and expanding their Diocesan ministry, and also worked to educate children. He also learned their local language.
Prison Ministry 
Upon his return to Australia, the new Archbishop, Cardinal Freeman, asked him to go to Long Bay Jail to become the State Chaplaincy Director. This role required Fr William to live onsite. In addition to friendship and spiritual support to many of the inmates, Fr William would also provide guidance in their rehabilitation, encouraging inmates to learn a new trade.  One anecdote shared was of an inmate who was beaten close to death by other inmates. 
Fr William organised his relocation to another prison, where the inmate also received a new name for protection. This inmate was able to commence his rehabilitation, and took on a new skill, cooking. Not only did this inmate become one of the key chefs in the prison, but he also served the community by providing meals for special events.
The survival of this inmate, their rehabilitation and their professional development was a fruit of Fr William's prison ministry.
Retirement
After taking a few other appointments, including serving as Parish Priest at Maroubra and additional roles at CatholicCare, Fr William has now retired and resides in Cronulla. In retirement, Fr William continues to serve Catholics in Sydney in various ministries, including providing the sacraments to parishioners across the Archdiocese of Sydney, and beyond.
Our Retired Priests
Our Catholic priests have many untold stories of heroism, sacrifice and ministry, which save lives – spiritually and physically. Whether they are going to the heart of COVID-19 units in hospitals, or working to rehabilitate inmates in prison, priests continuously work to bring the face of Jesus to everyone.
In their eventual retirement, let's take the opportunity – if we currently have the means to do so – to support our priests who have helped so many over the years.
Please consider making a donation of $50 to the Priests' Retirement Foundation. 
Your gift will help our retired priests receive the personal care they need, and the ability to live a dignified life with the basic necessities, including accommodation, meals and medical care as required.
Thank you in advance for your support.
SUPPORT OUR RETIRED PRIESTS TODAY!
This foundation was established to ensure that all priests can receive the accommodation, health care and support they need in their retirement. The Catholic Archdiocese of Sydney will give $2 for every $1 donated to the Priests' Retirement Foundation.
Your generous gift of $2 or more is tax-deductible.
DONATE NOW