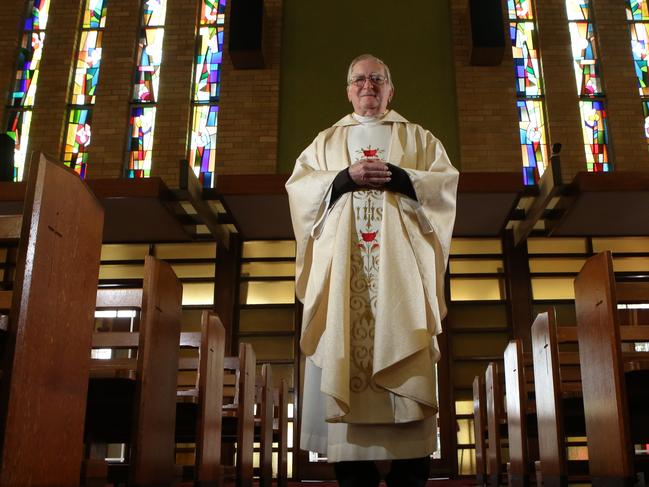 The willingness of our Priests to give their lives in service has often been the hallmark of their ministry. Such is the case with retired priest, Fr. Gary Rawson.  
Born in 1935 in North Sydney, Fr Gary Rawson's early life was marked by tragedy. 
"When I was five months old the first child, my sister, not quite 2, drowned in the backyard lilypond which had a traumatic effect on my parents," he said. 
This early trauma "started a chain of events" that would eventually lead him to the priesthood. 
The Rawson family moved to a different location in North Sydney to put a psychological distance from the memory. Because of this move, the young Peter was now just a walk away from then St Joseph's Convent school (now St Joseph's Catholic Primary School), as well as the priests of the Apostolic Delegation, then stationed in North Sydney. 
First seeds of his vocation
He recalls that the first seeds of his vocation were planted when he began serving Mass in Year 3 the school chapel, but "the idea didn't enter my head until about year 5," after meeting the Apostolic Delegation priests. 
Although he felt the call early, Fr Rawson did not pursue a priestly vocation until later in life. 
For nearly 15 years, the desire "faded", but returned after he earned his Leaving Certificate through night school at the age of 27. When Fr Rawson entered the seminary in 1967, at the age of 32, he was the eldest in his class. 
Fr Rawson was ordained in 1972, by Archbishop – later Cardinal – Freeman in St Mary's Cathedral, Sydney, alongside 23 others. 
The start of 46 years of service
Over the next 46 years, Fr Rawson served in 13 different parishes across Sydney, including Maroubra, Lane Cove, Lidcombe, Mosman, Richmond, Naremburn, Kingsgrove, Brighton-le-Sands, Concord, Bossley Park, Beverly Hills and Maroubra Bay. His last placement was the parish of St Thérèse, Lakemba, where he served for 29 years. 
In the words of Archbishop Anthony Fisher on his retirement, "he's been around". 
A modest man, Fr Rawson recalls that the greatest highlights of his time was "what I would call normal priestly work". 
"Working with people, helping them come closer to God, saying Mass for them every day, where necessary performing Baptisms, First Contritions and First Communions and Weddings. All these things are great highlights," he said. 
When asked if he ever questioned his decision to become a priest, his answer was immediate: "Fortunately, that has never happened". 
Fr Rawson says that all his experiences as parish priest have left a mark, including a short stint in a parish for just 2 months. Fr Rawson retired from active priestly life in the parish of Lakemba, the end of June in 2018. 
Serving in retirement
Now aged 85, Fr Rawson, still does occasional work for the Archdiocese at the request of the Archbishop. He celebrates Mass in the chapel of his residence at Clancy Terrace, a retirement village in the parish of Lane Cove. Often, he concelebrates with fellow resident, Bishop Peter Ingham, who has retired from the Archdiocese of Wollongong.
Sometimes it happens that a priest is able to retire in the same place that he has once served, and Fr Rawson noticed some familiar features when he viewed his new home. 
"Forty or so years ago, I was stationed in this parish [Lane Cove] for 5 years, and it feels like coming home," he said.  
Help given to retired priests
When asked how important the work of the Priest's Retirement Foundation (PRF) was in his life, he answered without hesitation: "Highly important". 
"I can remember a priest in an earlier generation wondering what was going to happen. For instance, when I was here 40 odd years ago at Lane Cove, the parish priest in his 90s was still living in the presbytery … and they took him out on a stretcher when he was 93," he said.  
"[The PRF] are providing the accommodation, which includes, electricity, water, telephone and email with a computer with appropriate furniture, transport, groceries and hospital care."
"Who can ask for more?"
This sentiment is shared by many of his brother priests. 
"Everyone is happy as far as I can work out, with their retirement situation … I can think of three others in a place called Dalton Gardens, where they are very happy in their accommodation." 
Looking back over his life, Fr Rawson sees how an early family tragedy was used by God to build a new life of service. He remembers with fondness the "good people who were always willing to help," who served alongside him across the parishes of Sydney. 
When asked if he had a message for those who continue to support priests at the end of their life, his answer was characteristically modest — "our thanks and gratitude". 
The humble life of Fr Rawson is a reminder of that type of Australian priest whose quiet and diligent service went on to build the Catholic backbone of this country. 
Please consider making a donation of $50 to the Priests' Retirement Foundation. 
Your gift will help our retired priests receive the personal care they need, and the ability to live a dignified life with the basic necessities, including accomodation, meals and medical care as required.