Our Faith Our Works Newsletter | February 2021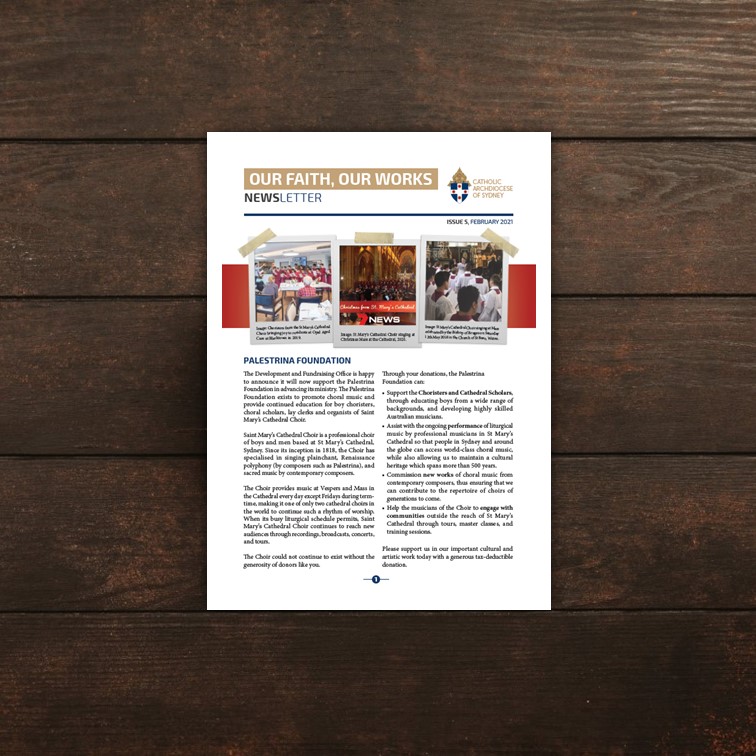 What a wonderful year we have ahead of us with Pope Francis' recent announcement of "the year of St Joseph" for 2021.
Many graces and gifts await us, starting off with the Pope's recent Apostolic Letter, "Patris Corde" (With a Father's Heart), to celebrate the year of Saint Joseph as Patron of the Universal
Church.
There are many great teachings in the life of St Joseph which we can draw from, one being the affection he had for both Mary and Jesus. He was their carer and protector, and went to great
lengths (also fleeing to Egypt) to ensure their safety.
St Joseph, a renowned carpenter within his town, also teaches us the value and importance of honest work. Pope Francis also adds the importance of every person having an opportunity to work, including those disadvantaged, which builds our human dignity.
The example of prayer, obedience and the sharing of faith is also demonstrated in St Joseph, in his discerning and accepting God's will to take Mary as his bride, and his teaching Jesus their
Jewish customs, traditions and laws.
These learnings from St Joseph's life also inspire our ministries at the Catholic Archdiocese of Sydney, and we invite you to continue to support the works of St Joseph and Jesus today. Whether it be assisting vulnerable mothers facing homelessness, providing training and work opportunities to people with disabilities, or supporting the formation of our seminarians, your donation will help support our ministries which were inspired 2000 years ago.
Please consider making a donation of $50 to support our Charitable Works Fund, the Priests' Retirement Foundation or the St Mary's Cathedral National Trust (Conservation Fund).
I am happy to announce that the Development and Fundraising Office will now work to support the Palestrina Foundation, which in turn supports cultural and music programs across the Archdiocese, particularly the Cathedral Choir. See inside our newsletter for more information.
A survey is also enclosed seeking your advice regarding our ministries and the application of resources. Your time filling this in and sending back to us is greatly appreciated, and we value
your input.
Next week marks the start of Lent, a time for us to renew our lives in Jesus. As part of the Lenten experience, we are encouraged to draw closer to God through prayer, fasting, and almsgiving. In this time, please remember our ministries in your prayers.
Thank you, and God bless
Michael Mendieta
Director, Development and Fundraising Office
Catholic Archdiocese of Sydney