St Mary's Cathedral in this Pandemic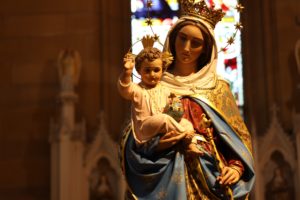 In recent months, we've been fortunate to showcase the beauty of our Cathedral to the whole nation. 
This reached a breathtaking high point when Channel 7 broadcast our Good Friday and Easter Sunday liturgies, which was viewed by over one million people across Australia.
Images of the Cathedral's new rooftop, and the recently restored Stations of the Cross, were in full display, in their new glory, which was made possible by your generous support.
Since the parish closures, St Mary's Cathedral has streamed the mass to thousands of faithful Catholics, each day, across Australia with many expressing their gratitude and appreciation. One benefactor called recently saying "I'm so grateful I can still access the mass each day from home during these restrictions. Thank you."
Given the recent consecration of Australia to Our Lady Help of Christians, and the relaxing of rules now allowing up to 50 people in the Cathedral, visitors are now welcome to pray, and do pilgrimage, to Our Lady Help of Christians inside the Cathedral.
RESTORE OUR MOTHER CATHEDRAL TODAY!
Your support to the St Mary's Cathedral National Trust will ensure that our Cathedral remains protected for others to benefit.
Your generous gift of $2 or more is tax-deductible.