Farewell to Director Thomas Wilson
This article first appeared in Limelight Magazine on 28 November, 2022.
After 13 years as Director of Music at St Mary's Cathedral in Sydney, Thomas Wilson is leaving the position. His last day in the role will be Christmas Day – so it's going to be a festive season he will never forget.
Between now and then, he has a lot to keep him busy. On top of the daily choral liturgical services, he is conducting two performances of A Choral Christmas Celebration on Friday 16 December – an annual event that draws a sell-out audience, who cherish the traditional Christmas experience. Featuring the St Mary's Cathedral Choir with Sinfonia Australis, the concert will include music by Bach, Handel, John Rutter and Morten Lauridsen, among others, as well as Christmas carols.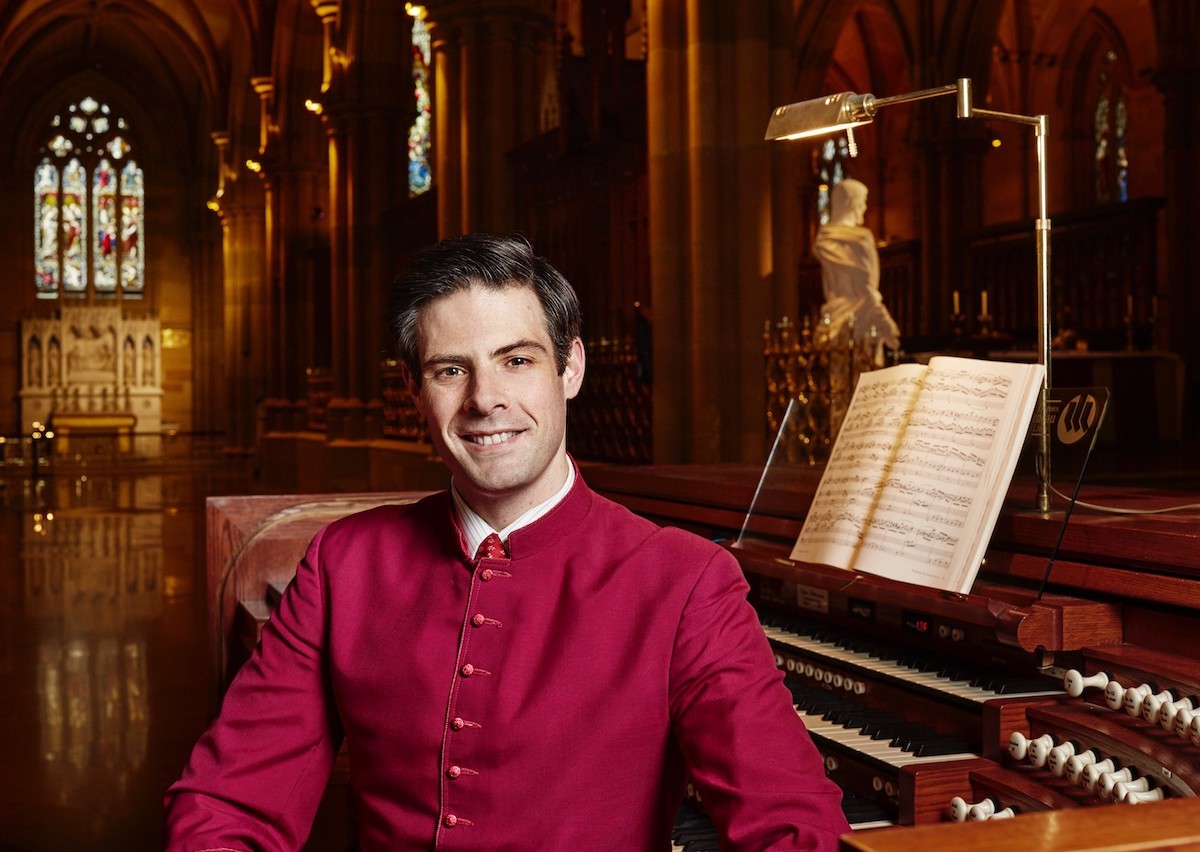 Wilson – who was born in Hamilton, New Zealand – doesn't have another position lined up after he leaves St Mary's Cathedral. "I'm heading off into the great unknown!" he says with a laugh.
"Being Director of Music in a cathedral is a very all-encompassing job. It can also be all-defining, and so I just want to take a little bit of time to see what other musical opportunities might present themselves. It's been 13 wonderful years of doing something I love and care very deeply about, but of course, it has also meant I haven't been able to do certain other things, so Thomas the musician is just looking for new challenges!"
Wilson studied organ at the Royal Academy of Music in London, and remains active as a concert organist.
"One spends an awful lot of time and trouble and money studying an instrument like the organ, and then when you finally get one of the top jobs being an organist, you've almost got no time to actually play the thing!" he says laughing.
"I love conducting the choir, and, of course, the Cathedral Choir is a special type of entity in that it's about teaching the music; it's about training the choir every day and performing almost every day, which is wonderful – a very engaging musical pursuit. But it would be nice to have more time to focus on my own organ playing, among other things."
The origins of St Mary's Cathedral Choir date back to 1818, making it the oldest musical ensemble in Australia. Consisting of boy choristers and professional male adult singers, it is the only fully professional cathedral choir in Australia that operates in the tradition of King's College, Cambridge and Westminster Cathedral.
You might assume that Wilson also sang in a cathedral choir as a boy, but you'd be wrong.
"I wish I could have done, but, there wasn't much of that type of opportunity around in New Zealand, when I was growing up. I think there were two cathedral choirs at that time, still using boys, but unfortunately not in the city where I was born. So, I didn't have that opportunity, although I did sing at school," he says.
"I remember walking into the school chapel and seeing the organ pipes, and thinking, 'My god, I'd love to be able to play that.' My piano teacher was very keen to keep me focused on the piano, so it used to take a lot of persuading for me to be able to be given the chance to try the organ. In some ways, I think that was a really good thing, because it actually kept me very keen. And, by the time I went to secondary school and there was an organ teacher who was a great supporter and mentor, then I was really desperate to do it."
"The organ's one of those instruments that you have to be enthralled by, otherwise it's all too difficult. You have to go and practise, often in cold churches or other public buildings. It's noisy, it's a very unforgiving instrument; everyone can hear when you make a mistake. If you don't get the bug, then perhaps most people don't stick with it, but I certainly did get the bug."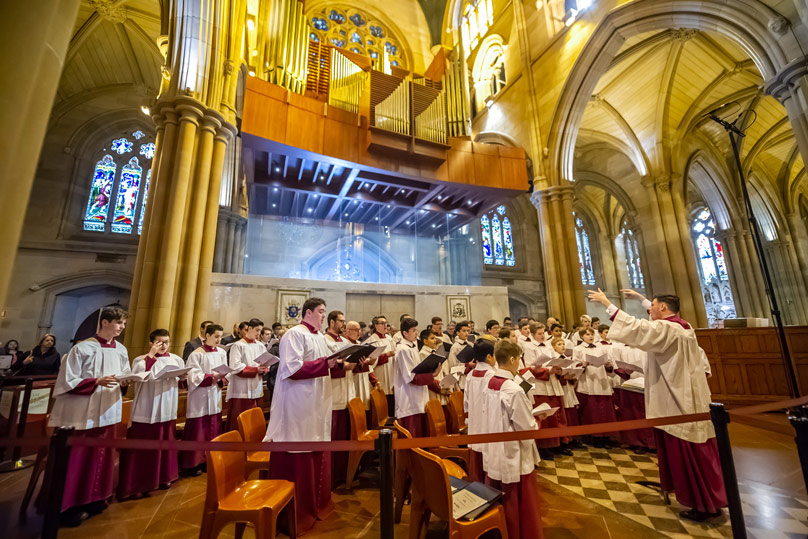 When Wilson was just 18, he was appointed Director of Music at Wellington Metropolitan Cathedral.
"It seems slightly a strange thing, doesn't it, that I was studying to become an organist and then, almost by default, ended up conducting singers. And you know, it doesn't always work out for the best. I mean, it certainly doesn't necessarily follow that a keyboard player can be a director of voices. But, although I don't count myself as a very fine singer, I have made it my business to learn a little bit about singing technique over the years, so at least I have some understanding of the musicians in front of me, what their technical challenges might be. Of course, that's all the more important when teaching children how to sing."
In 2003, he moved to the UK to study organ with Professor David Titterington at the Royal College of Music, and made his debut performance at Wigmore Hall accompanying renowned cellist Stephen Isserlis. Wilson describes the experience of studying at the Royal Academy of Music as "extraordinary", and finding himself surrounded by so many extraordinary musicians gave him the impetus to study even harder.
"That's such an important thing for musicians of any type, to realise that there's always a higher level; we sometimes just need to remind ourselves of that, I think. We're never going to be the equal of the music we perform, but we'd better continue to make ourselves a little bit better," says Wilson.
After working as organist and Assistant Director to the Choir of Ealing Abbey, he was subsequently appointed Assistant Organist at Westminster Cathedral, where he regularly accompanied and directed the Choir, performed in the Cathedral's Grand Organ Recital Series, and toured and recorded with the Choir.
"That was a very special few years, and had I not been given that opportunity, I'm sure I wouldn't be doing what I'm doing today," he says. "I was extraordinarily fortunate to have been given a job that hadn't previously existed. The Master of Music created a role, because he thought I could do some things for them usefully, but of course what it really meant was that I was able to learn by being immersed in a choral tradition of sacred music that really is fairly well unique in the world."
When St Mary's Cathedral in Sydney was looking for a new Director of Music, they contacted Westminster Cathedral to ask if they knew of anyone, and Wilson was alerted to the position. He admits that his first reaction was, "Why would I want to go to Australia?" But deciding that the job sounded very interesting, he got on a plane and flew to Sydney to be interviewed and auditioned by conducting the Choir.
"I remember first clapping eyes on St Mary's Cathedral, and thinking, 'My gosh. Yes, I could imagine living and working here,'" he says. "The thing that was so exciting for me was just the sense of possibility – and I was right. The people in charge really wanted to take the opportunity to develop the already very fine musical tradition here and see where it might be able to go, and to take on board the sorts of ideas that I had, fresh from my experience at Westminster Cathedral. And in church music these days, that's very rare. So, I was very lucky to find this opportunity."
Wilson has achieved an enormous amount at St Mary's, including introducing the daily liturgical services.
"When I first arrived at St Mary's 13 years ago, there was already a very good choir. And they would sing, really, just on Sunday mornings and other special occasions. But I said to the clergy here, 'It's a bit like having a football team that only ever trains, and never actually plays any matches!'"
"And, actually, what the choir needs is more match experience, and that's why, over time – it took some years to build it up – we got sections of the choir to perform throughout the week. It's particularly important for the boys to have that experience, not just of singing different music from one day to the next, but the experience of, 'Okay, there's nothing we can do now. We have to perform, and there are going to be people there listening to us; for better or worse, we have to put our best foot forward.' Obviously, there are all sorts of lessons that come from that, not all of them musical. It's just a very good discipline."
Asked if any thought has been given to including girls and women in the Choir, Wilson says, "There absolutely has. And it's something that – I would say we, but they, now – are working on. The challenge is to make an arrangement with a suitable girl's school, just like we have with the boys in the choir, and yes, they're trying to get onto that at the moment."
As for the highlights of his 13-year tenure, Wilson nominates the international tours – "the Choir has sung in festivals in Europe, and for two popes in my time" – and the many concerts, some featuring the Cathedral Choir on its own, and others performed in collaboration with groups such as Sinfonia Australis, The Song Company and the Choir of St James.
During his time as Director of Music, Wilson has put a focus on performing contemporary sacred music alongside the traditional repertoire.
"You can see the excitement on the boy's faces when they realise that a composer is alive. Often, they've had the opportunity of meeting and working with the people that have written the music that they're singing, and it's very nice to see that excitement," he says.
That mix of music across the eras will be on show in the concert A Choral Christmas Celebration.
"We've got music from living composers, including a friend of mine, who is becoming a very successful composer in the UK, called Matthew Martin, and John Rutter – it wouldn't be Christmas without John Rutter," says Wilson.
The concert will also feature Morten Lauridsen's beautiful setting of O magnum mysterium, and music by Franz Biebl, who died in 2001. "But then, the greats as well. [We will perform] some movements from Handel's Messiah. Perhaps one of my favourite works is Johann Sebastian Bach's Mass in D Minor, so we're going to perform the first movement of the Gloria, which is an extraordinary piece. And then, of course, we must have some Renaissance polyphony, but I've chosen a piece that isn't perhaps so well-known; it's by a French composer Jean Mouton, called Nesciens mater, which is an extraordinary, beautiful and very reflective piece."
In what has now become a tradition, the concert will also include carols such as O Come, All Ye Faithful, Hark the Herald Angels Sing and Once in Royal David's City, which the audience members are invited to sing with the Choir.
With the pandemic making the last few years so unsettling, and last year's Omicron wave adding to the uncertainty, Wilson says it has felt like a relief that this year there will be "a little bit of Christmas normality – so far, fingers crossed. Everyone's in the mood I think."